[ Thread Index | Date Index | More lists.tuxfamily.org/taste-users Archives ]
Subject: [taste-users] Taste news
From: "Maxime Perrotin" <Maxime.Perrotin@xxxxxxx>
Date: Thu, 21 Mar 2013 13:36:22 +0100
---
Dear TASTE users,
For those who will update their TASTE VM today, you will find inside a major new release of OpenGEODE, our internal SDL editor. The update comes also with minor updates of the ASN.1 compiler.
This version has two important new features:
- support for SDL procedures
You can now define internal (graphical) procedures with formal parameters
- generation on the fly of 'statechart'-kind of diagrams
The picture below illustrates these changes (The "CheckCRC" box is a procedure symbol, when you double click on it it opens a nested diagram in which you can describe some additional behaviour). Use the Up arrow on the menu bar to come back to the parent diagram.
On the right you can see the statecharts. This view gives a nice overview of your state machine, without the complete defintiion of the transitions (which is in the SDL model).
For more information on how to use OpenGEODE with TASTE, please contact us.
Note that OpenGEODE is a technology demonstrator, that fits well R&D purposes ; but it is an experimental prototype that should not be used in place of professional SDL editors such as Pragmadev RTDS for commercial applications.
Best regards,
Maxime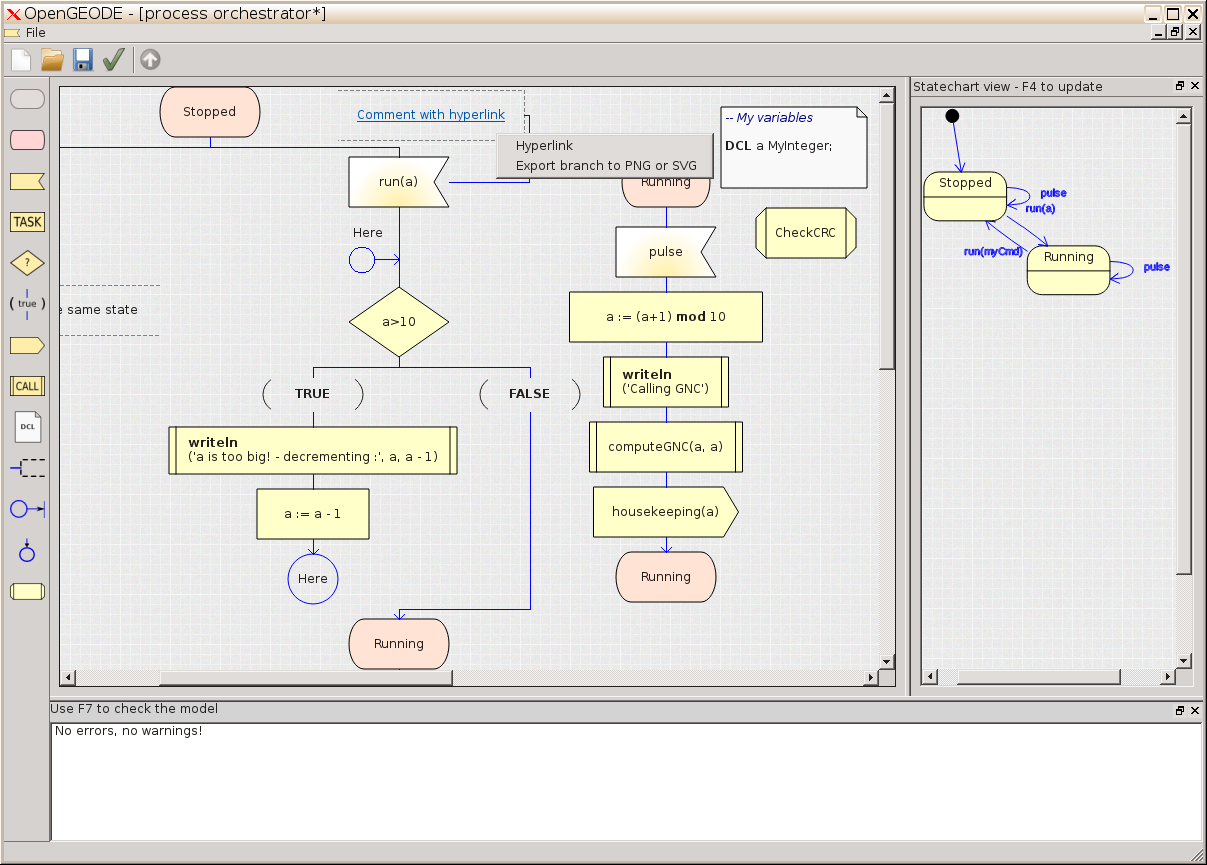 --
ESA - European Space Agency
Maxime Perrotin
TASTE Project manager
PROBA V - PROBA 3 Software engineer
System, Software and Technology Department
ESTEC
Keplerlaan 1, PO Box 299

NL-2200 AG Noordiwjk, The Netherlands
maxime.perrotin@xxxxxxx | www.esa.int
+31 (0)71 565 4923 | Fax +31 (0)71 565 5420
This message and any attachments are intended for the use of the addressee or addressees only. The unauthorised disclosure, use, dissemination or copying (either in whole or in part) of its content is not permitted. If you received this message in error, please notify the sender and delete it from your system. Emails can be altered and their integrity cannot be guaranteed by the sender.

Please consider the environment before printing this email.

---