[qet] Diagram saved with error detailed description
[ Thread Index | Date Index | More lists.tuxfamily.org/qet Archives ]
Subject: [qet] Diagram saved with error detailed description
From: Marcelo Miacca <mmiacca@xxxxxxxxxxxxxxxxxxxxxx>
Date: Fri, 15 May 2015 16:51:31 -0300
Dkim-signature: v=1; a=rsa-sha256; c=relaxed/relaxed; d=gmail.com; s=20120113; h=mime-version:sender:date:message-id:subject:from:to:content-type; bh=egUzFqefFS1wV6jH+yvLDL34H/W8E9C44TYnq9FqYLY=; b=d/22AiMBnNh+yt1h6eFwtVMBRUwZD9XzsIGoduLfXDxbwIwH+mUiqo+4ZCWPcGImVE ViiBJ2bYjpmXv9mNyVY5Tl2ghCY8zdt3ekhx8Klt5spg9lLHe6K2DXyZGTbNnzma4vGD FXlgGrkzV7/zdcJ7S5aVKVnM2eI6H39oefRm0MI2cPaTbapuLqy2FP99uF+zBPOy6Npg ZB5rvp+Y+FZpz+JngwjkSG3Pti02xphvuvLUku1IhZjnR3dzvf6499c3Pp3eesUBd6nF MkuTR9YVC3sH8gRSM70sbGAqq3HUeUc0PeC+gcTqOiYHfPxnH+KgA+P36UuqZJnmbwip knag==
---
Dear


I found the origin of the the crash, the main problem is not with qet main but with the element editor.
1) add a new element, the element editor is open
2) add 3 bornes
3) press cntrl + Z (undo)
4) Now there are 2 bornes at drawing and 3 bornes at tree or parties list
Now the big picture (see attached files)


1) Add "bornera_frontera_2.elmt" and "bornera_frontera_3.elmt" to the custom element folder, both have the problem with undo.
2) Open "Multifilar tipico barrera 2.qet"

3) Goto "GM Barrera" folio

4) delete the element over the label "A Variador Barrera"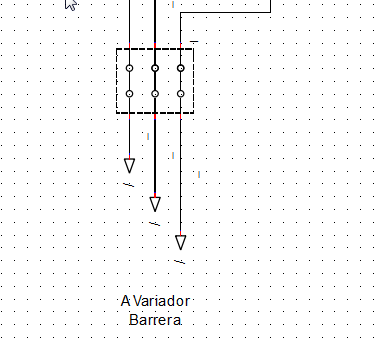 5) Replace it with the small "bornera_frontera_2.elmt", see the result in the next picture
6) Save and close

7) Try open the file


Tks

Attachment: Multifilar Tipico Barrera 2.qet
Description: Binary data
Attachment: bornera_frontera_2.elmt
Description: Binary data
Attachment: bornera_frontera_3.elmt
Description: Binary data
---